Easter is a celebratory occasion where eggs form the centre of all attention. This is a time when people unite on the pretext of decorating eggs and making merry which is why Easter remains one of the rejoicing causes of family reunions. Since it is a festival involving contributions from everyone from small to big, there are no bars regarding how and what ways it should be celebrated. People can break out with innovative ideas, extreme or conventional, traditional or recent that is strictly in terms of embellishment and decoration of Easter eggs. This article will furnish you with some good Easter egg decorating ideas that would require you to be using crafts materials and other paraphernalia. The best part is children can also take part in these.
Hollowed Eggs
There is no hard and fast rule that only unbroken eggs will have to be used. You can be inventive in this aspect and simply make hollows in the eggs to bring that zing. The egg content can be removed by making a small opening in the egg and then dyed with natural or glossy colours which would instantly make it a decorative item. You can hang them from ceilings or curtain rods using chains or hooks that would intensify the glam look of your house during Easter. This would stick to the theme as well as revamp the old boring rooms of your house.
Party Favours
For party purposes, there is no better idea than using your eggs as animal figures or heads. The eggs can be hollowed in the same way before drawing out features on the egg shells. For making extra features like ears and nose, tissue papers or handmade papers can be used. The paper cut outs can be then fixed with glue to the egg heads to create protruding facial features. This is not only attractive to look at but also an enjoyable experience to gain. Kids especially would enjoy this more at parties. So these can take the place of party favours.
Egg Garlands
Have you ever thought of designing egg wreaths? The concept is exactly like that in a flower wreath. The only difference is, here, eggs will be used in place of flowers. For this purpose, it is better to go for plastic or fibre eggs which are sold in marketplaces. String them together using threads or wires. It can be jazzed up by inserting paper leaves in between. Eggs of various colours can be taken to make the garland and spare ornamentation is always welcomed, using beads and tissues.
Tinted Eggs
The eggs are blatantly covered with wrapping papers and then varnished over the papers. The paper tint can be golden, silver, copper or in any other metallic hue. This would create bold looking eggs that can be later bejewelled with rhinestones and sequins.
These are some fantastic Easter egg decorating ideas that you can make full use of this Easter. The job becomes challenging when you use real eggs and paint them dry instead of the easily available decorated eggs.
Winter is here and winter is bleak. Amidst all the frostiness of snow and lonely chilly winds your winter home will be in no manner, prepared to embrace the fantastic jollity of Christmas. So light up your homes with the fire of joy and frolic, kick up your heels in the merriment of the festivities with outdoor lighted Christmas decorations.
Affordable residential and commercial décor service is now here
Avail your family homes and workplaces the featured fanciful offers, drawing in a huge array of items which define the spirit of gaiety and the essence of Christmas by highlighting the legendary legacies associated with the season in their faultless originality. The décor they provide will be of immensely powerful quality. The warmth of homeliness in family gatherings on the occasion of Christmas will be explored through these designing ideas.
Goodies
Christmas lights in LED, themed outdoor Christmas decorations replicated in colorful layouts will be availed to the customers for his approval first before providing the set-up at their personal places, be it a workplace or a family home.
Yard decoration ideas will be serviced through catalogues; loose LED lightening items outside theme packages, animated Christmas display lights, and other religious themed lighted items, in or outside packages will be accessible in full detailed catalogues with bendy but affordable price ranges.
 Lighted Christmas decoration items in loose will be on offer with the same defining quality in context of the style and the spirit of the occasion. For example—ingeniously made items of flawless artistry themed on LED Santa, LED angels, LED reindeers, LED snowmen etc.  will be showcased in a variety which boasts of innovation and novelty.
Items of pure novelty in the range of outdoor lighted Christmas decorations will add jazz and color to your environ of personal celebrations.  The idea is to enhance the moment of fun, frolic and celebration because this charming season comes once a year and should not be missed out on, at any cost!
The big question which keeps the adults of a Christian home in tension on a Christmas Eve is – how to decorate a Christmas tree; while the children keeps wondering about Santa and his gifts. Here is a neat list of decorating ideas.
Baubles which flash
Get those glass globules which have highlight refractivity to astonish the visitors with the sparkling effect. Be it a classic tree or the one with a modern essence the sparkling effect is a Dazzler. Baubles also come in classic red, white and silver with traditional touches. Graphic design features are however the trending looks featuring all over the arena.
Personalize with a vision
Here's for the artsy ones. Make your own trinkets with a touch of delicate warmth. Feature from old paperbacks and yellowing pages of sheet music carrying a peace message or a statement of power or something witty like a bumper sticker. Although "funny" must suit the occasion and not stretch to vulgar. Hand dyed ribbons and vintage knick-knack to add to the rustic flavor are welcome.
A Blossoming tree
A Christmas tree that flower? Try this out with a tree featuring blooming beautification with vibrant blossoms and buds of delicate colors. Hit the craft stores or make yourself some effervescent flowers out of silk and satin. Bring in the richness and an essence of international designer looks. Bring in the quintessence of your favorite orchids, garden roses, magnolia and hydrangeas. fling them along the branches and spruce it up with textured ribbons. The high-end designer look is now at your fingertips.
Naturism
Observe the natural aura of the season. Give your tree a worthy winter look. Let a variety of pinecones, dry leaves and birds flutter through the branches of your tree.
Let the tinkling of the bells and cherry-red wraths take over the rest of the aura in the session of how to decorate a Christmas tree.
Elegant decoration for your Thanksgiving party with Thanksgiving table decorations
In a way every party and ceremony is special, but when it comes to thanksgiving ceremonies, people often tend to remember it for long. Then why not make that day beautiful likes its memories. If you are thinking it?s hard to make your thanksgiving special, then all you need to do is decorate the party beautifully. If that is hard, follow these simple instructions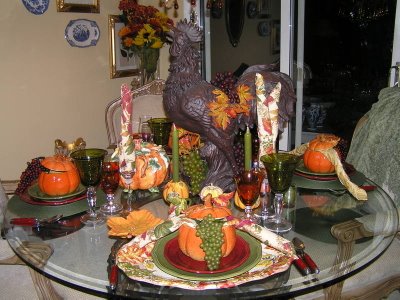 Easy way to start decorating for thanksgiving:
All you need to do is just take care of the Thanksgiving table decorations and you will see everything around it starts looking beautiful. A beautiful table will always make the whole place look beautiful.
Covering the table:
In order to make the tables look beautiful, the first and foremost thing that you will need is a beautiful tablecloth. Try and manage a tablecloth that is either maroon or white in color. These two are a few of the colors that offer a wide range of decoration further on the table.
Centerpiece on the table:
Empty tables never make it amongst the list of beautiful objects. Whereas just add a centerpiece on it and see the difference. It will change drastically and will start looking extremely beautiful.  That is the magic of a center piece. So put up a centerpiece on the table and fill it with flowers. If you have a white covering, add whichever colors you have, but if you have a maroon cover over your table, add white flowers and a lot of leaves.
Paper napkins and Plates:
Use paper napkins which are white or yellow, and if possible have them in the shape of a leaf.  This will make the table look highly elegant.  The plates for food should be white in color. This will go with both the coverings of your tables.
Put some candles:
Surround the centerpiece of your table with candles. That will make your table look even more beautiful.
Elegant decoration for your Thanksgiving party with Thanksgiving table decorations
During the fall season, many home lovers would like to redecorate their homes in vibrant colors that would give fresh and happy ambience. It is very common to fix and re-arrange the kitchen. For some reason, women find it as a degree of self-achievement when they get to decorate their kitchen successfully.
To begin with changing the kitchen?s wall color or wall paper into something light to the eyes is a good idea. Pick the likes of sunny hues of sunshine yellow or the warmer color of orange. By doing this, you are creating a fresh aura that will make anyone feel light and at home. The kitchen is the heart of the home. People would always come in there more times than any other room in the house.
One of the many creative fall decorating ideas is using eco-friendly dividers.  Dividers that are made of wood or designed with the use of stained glass with colorful designs can make the kitchen look appealing and fun room to be in. Happy colors make up a happy home. Try to make the color and the dividers coordinated to the fall décor theme. You can find some nature inspired designs from the internet. A bamboo reed divider would be a good choice.
Pinching in more accessories to the fall theme, use earth colored bowls to match the wooden kitchen table. The clay pots would do a wonderful display on one corner of your kitchen. Use the big earthy looking jars to keep cookies. Kids would notice the difference instantly, expect more from adults. Also, do not forget to add orange or leafy brown colored vases to hold your fresh flowers on strategic corners of the kitchen. This will accentuate the fall ambience of the kitchen. It will make the room feel fall-like.
Accessorize the items you use from placemats pot holder, kitchen towels, and rugs. Use those white with leaves and trees designs (embroidered would be nicer) on placemats and table napkins. By doing this you are sprucing up the appearance of your table and countertop. Rich fall colors and designs can make a bare table look alive.  Placing them on tabletop surface adds warmth to the kitchen?s aura.
Another idea that adds life to the kitchen is throw rugs. You may think that the floor is the last thing people can notice inside your kitchen, think again. The floor draws everything in place. Using decorative throw rugs in earthy accents, it would add a richness look to the kitchen and it will make people feel homey. You can choose between the amber leafy prints, or the plain colored of yellow and orange hues. Shuffle them on a daily basis would be a good idea as well.
The colors of yellows and orange hues are mostly the favorite in this season. It represent s the falling leaves and the awesome nature look of the fall. . Decorate your kitchen and amuse your family with the results. For a home body who takes pride in DIY fall decorating ideas, this is a fun way to do it